FHI on PBS
August 9, 2006
It's hardly a scoop that PBS is a staple of American television. With such classic programming as Sesame Street, NOVA, and Antiques Roadshow, it's pretty clear why 90 million viewers of all ages tune in each week.
With an extensive lineup that rivals any for-profit network, there's always room for one more. So move over Big Bird...there's a new chick in town.
Announcing the PBS debut of For Her Information, a "real" reality show for women, with topics ranging from body image to eco-friendly architecture. The interview-style format features host Beth Aldrich and her arsenal of expert guests, including organic food doyenne (and celebrity offspring) Nell Newman and infant sleep guru, Dr. Marc Weissbluth.
For Her Information is offering you a chance to put the "P" in PBS: Every Scoop du Jour reader who contacts their local PBS station and asks, "When will FHI appear in my city?" will be automatically entered to win a pair of Manolo Blahnik heels (valued at $495). Simply CLICK HERE to enter and FHI will make sure that your inquiry finds its way to PBS.
So get involved, get typing and get For Her Information on PBS in your city.
And maybe even win a killer pair of shoes while you're at it.
To learn more about For Her Information or to receive a FREE copy of FHI Magazine (for a limited time) visit Forherinformation.com.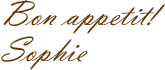 To change your email preferences or unsubscribe, click here.
all content copyright scoop du jour 2005