Going Posta
August 3, 2006
Our lives have become increasingly cluttered. And, in turn, so have our desks.
So the opportunity to consolidate is always more than welcome.
That's why we're checking out the innovative notes from Posta Chica.
This Cali-based company will print your return address on the back of stationery, invitations, or announcements so recipients can store your good wishes and thank-you-note reference material all in one place.
A window on the flap of the accompanying envelope lets the point of origin peek through, but after the package arrives safely, only one paper product need be saved.
And the concept isn't the only thing that's bright, as stripes, dots, and flowers cover the cards in color.
Now that's what we call a special delivery.
Available online at Postachica.com.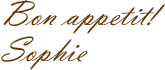 P.S. Are you a Bombshell Betty or a Choco-licious Girl? Find out at Little Shop of Beauty. With over 525 delectable scents and 70 fresh products to choose from, you're sure to find a goody that fits your personality. Little Shop of Beauty is giving away a free full-size Lollipop Scent Stick ($14 value) to any Scoop gal who orders over $40 worth of treats. Simply enter SCOOP in the comments section upon checkout. Offer expires 8/8. Plus, sign up for the LSB newsletter for your chance to win 1 of 5 Beach Bunny Buttercremes (valued at $18)! Contest ends 8/7 and winners will be contacted via email.



To change your email preferences or unsubscribe, click here.
all content copyright scoop du jour 2005