About Last Night...
July 11, 2006
Sometimes we get so caught up in the heat of the moment that we hardly have time to think about the consequences.

Perhaps the phrase "Morning After" rings a bell?

Oh, we know it sounds scandalous, but we're simply referring to the Morning After Bag from Rebecca Minkoff.

Sure, it was an impulse brought on by our passion for pockets and double handles, but we never considered how we'd feel about our choice when the sun came up.

As it turns out, pretty fantastic.

Regrets? Only that we may have picked the wrong color. With so many shades to choose from, it was just way too hard to distinguish right from wrong in the heat of the moment.

But we love that we can fill it to the brim and toss it over our shoulder.

In fact, that's just the kind of fling we adore.
Rebecca Minkoff is offering Scoop du Jour readers 20% off her Morning After Bag when you enter SCOOP upon checkout.
Available online at Rebeccaminkoff.com.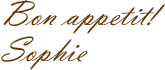 P.S. Rebecca Minkoff hearts Scoop du Jour! Click here and enter to win a Rebecca Minkoff clutch in the color of the winner's choice. One lucky reader will be chosen at random. Good luck!




To change your email preferences or unsubscribe, click here.
all content copyright scoop du jour 2005