Animal Kingdom
July 18, 2006
We're absolutely wild about animals, but there's a limit to which ones we'll host in our homes.

And, sadly, even our precious pets can't come everywhere with us.

But with accessories from Kris Nations, we can keep more exotic species close to our hearts (and wrists and ears).

Though the collection also includes Buddhas, tusks, and branches, we can't seem to keep our paws off the carvings of creatures. The San Francisco-based designer turns colored stones into elephants, owls, and butterflies and attaches them to gold-filled wires and chains.

And for the true obsessive, she's put together the Fetish Necklace, a five-strand creation featuring dolphins, and turtles, and horses...oh my.

So now we can remain close to nature while staying ahead of the fashion curve.

Because we all know it's a jungle out there.
Kris Nations is offering Scoop du Jour readers 20% off everything on her site when you enter SCOOP upon checkout. Offer valid thru 8/18.

Available online at Krisnations.com.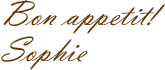 P.S. AND THE WINNER IS...Hundreds of you entered but only 1 could win a clutch purse from hip designer Rebecca Minkoff. Congrats to Christina Minghine from San Diego, CA! Thank you to everyone who participated in this week's drawing. Check back often for more chances to win fabulous products a la Scoop du Jour!




To change your email preferences or unsubscribe, click here.
all content copyright scoop du jour 2005