Stay Tuned
July 25, 2006
We admit we're a wee bit obsessed with our iPods, but even with thousands of downloads, we occasionally find ourselves in a jam.

When every song starts sounding the same (and that says a lot considering our eclectic tastes), we dream of composing our own little ditties.

Skeptics and snobs alike may doubt our dedication, but at least we have a rockin' response ready when they do: Kiss My Axe.

This line of customized guitar straps from actress/singer-songwriter Marla Sokoloff lets us strum the strings in style.

Adorned with Austrian crystals as well as colorful designs, they inject individuality into an oh-so-practical purchase. Feel feminine with butterflies and flowers, or reveal a darker side of your personality with skulls and crossbones.

No matter what you choose, you'll soon be in the groove to get started.

And that's music to our ears.
Available online at Marlasmusic.com.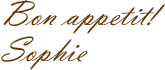 P.S. Starting to sound like your mother? Introducing TheMommyTimes.com-- a new e-magazine full of unstuffy articles for hip moms who love to laugh, relax, shop and, of course, take care of the little ones. There are recipes, tips, and ideas to inspire you. So sign up now (it's FREE!) and spread the word. After all, mother knows best.



To change your email preferences or unsubscribe, click here.
all content copyright scoop du jour 2005