Hawaiian Tropic
June 27, 2006
Who among us couldn't use a summer vacation (or three)?
From an iTunes-laden road trip (easy access motels, free ice) to a chic five-star destination (easy living, free-flowing champagne), as long as we're away, we're really not picky.
And while some locales enable us to vacay a little easier than others, we've recently discovered our own private getaway for those times when an hour in the tub without a beeping Blackberry is the only luxury we can afford.
Introducing Layla Coco, a line of scented soaps, scrubs, and moisturizers richly infused with island aromas like mango, pineapple, and coconut.
We're semi-obsessed with the Pineapple/Kiwi body scrub made with honey and organic sugar. After just one application we're pretty sure we heard someone ask if we wanted turndown service.
But buyer beware: you're bound to experience that, "What the hell am I doing back in the real world?" feeling immediately after toweling off.
Then again, why should today be different than any other day?
Layla Coco is offering Scoop du Jour readers a free bar of glycerin soap with your order (no minimum purchase required) when you enter SCOOP upon checkout. Offer expires 7/31.
Available online at Laylacoco.com.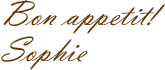 To change your email preferences or unsubscribe, click here.
all content copyright scoop du jour 2005