Beauty and the Beach
June 20, 2006
We've all but abandoned beauty products for summer.
Bye-bye, bronzer (no need with that killer tan). See ya, straightener (no point with the humidity). Peace out, polish (well, maybe we'll keep that one around).
But no matter what, we would never gloss over our lips...except, of course, with gloss.
That's why we can't stop smiling about the new custom blend lip glosses from Prescriptives.
Maybe we can't cook in the kitchen, but with 24 beautiful base shades, 8 fantastic finishes, and 9 mouth-watering flavors, we sure have the ingredients to concoct cosmetics.
Using a simple step-by-step process, we can whip up light berry–luster–latte, medium coral–chrome–cocoa and dark rose–glitter–meringue, to name a few. Then our made-up makeup is delivered to our doorstep in test tube-like containers.
But sorry, Beach Girl, the possibilities aren't endless.
Though, sadly, neither is summer.
Available online at Prescriptives.com.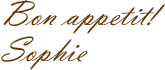 To change your email preferences or unsubscribe, click here.
all content copyright scoop du jour 2005