Home Sweet Home
June 13, 2006
Checking the mailbox used to be so exciting, but not so much since e-mail came along.
Now most of our correspondence occurs electronically, while snail mail brings us nothing but fliers and bills.
We could all use a little "old school" inspiration from a thoughtful woman named Freida. When her future husband was fighting in World War I, this kitchen queen mailed him frequent packages of original-recipe cookies.
Fast forward more than 60 years, and her tradition of sending sugary snacks to loved ones lives on with the Cookie of the Month Club from Solomon's Gourmet Cookies.
Sign up for three, six, or twelve months, and soon you'll be receiving jelly cookies in January, raspberry brownies in April and carmelitas come May.
So fill up your belly (and your mailbox) with goodies from this thriving family-run business.
Because this is hardly a half-baked idea.
Nope, this one really delivers.
Solomon's Gourmet Cookies is offering Scoop du Jour readers 15% off your order when you enter SCOOP upon checkout. Please limit one per customer. Offer valid thru 6/30.
Available online at Solomonscookies.com.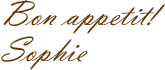 P.S. AND THE WINNER IS...Hundreds of you entered but only 1 could win a 1-year Knickerscription from Coco Ribbon. Congrats to Marci Greenfield! Thank you to everyone who participated in this week's drawing. Check back often for more chances to win fabulous products a la Scoop du Jour!



To change your email preferences or unsubscribe, click here.
all content copyright scoop du jour 2005