Skirting the Issue
June 1, 2006
Every summer we ask ourselves why we don't exercise more.
How's this to jog the memory? Sweat, fatigue and a lack of cute workout clothes for starters.
Well, that last excuse is no longer valid, thanks to Running Skirts from identical twins (and avid athletes) Christy and Cindy.
These high-performance minis keep you covered with attached briefs underneath, and the side pockets let you store your keys and cash as you race through your rigorous routine.
Plus, there's a dashing array of color combinations like chocolate and aqua, pink and maroon, black and white, and more. And you can really make a coordinated effort to get in shape with the matching sports-bra tops.
So don't be surprised if guys start to go the extra mile to get your attention.
Guess it's not such a bad thing to run like a girl after all.
Running Skirts is offering Scoop du Jour readers free shipping when you enter SCOOP upon checkout. While the discount will not appear on the checkout page, it will be applied to your final order.
Available online at Runningskirts.com.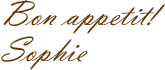 P.S. Attention all you beauty junkies: What's better than having your pick of a whole bunch of beauty products? How about beauty products that are actually handpicked for you? Blooming Grove Herbal Remedies provides clients with one-of-a-kind beauty booty after conducting a full-scale phone analysis of their likes and dislikes. Packages are available in 3-6 or 12-month increments. From homemade soap to organic exfoliators, there's nothing but 100% customer satisfaction here. But just in case you weren't convinced, Scoop du Jour readers get one month free with any product purchase. If that wasn't enough, you'll also receive free shipping on any order over $10. Did we mention that one lucky SDJ reader will win a three-month supply of soap when they join Blooming Grove's Circle of Friends? Well, we just did.



To change your email preferences or unsubscribe, click here.
all content copyright scoop du jour 2005