Goody Bag
May 23, 2006
Who doesn't remember her first Crayola Crayon box? Forget paper, the names alone were enough to keep us occupied for hours.
(What exactly is Raw Umber anyway?)
While our 64-box set currently resides in our parents' basement alongside our Cabbage Patch Kids, our love of color has only continued to flourish.
Thanks to Lauren Merkin's customized evening bag collection, we can finally put our aesthetic knowledge to good use. Available in four of Merkin's classic styles- the Bean bag, Eve, Viv & Charlotte, the color palette ranges from primary colors to metallics to pastels, totaling 17 in all.
For an additional $15, the clutches can also boast your monogram for that extra-personalized touch.
Great as bridesmaids gifts, for a night on the town, or when you've simply scoured the earth for something to go with your favorite frock in Burnt Sienna and nothing else even comes close.
What in the heck is Burnt Sienna anyway?
Available at Laurenmerkin.com.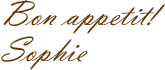 P.S. Now don't go getting your knickers all in a twist just 'cuz you have a chance to win a 1-year Knickerscription from Coco Ribbon. Simply take a deep breath and click this link to enter your name & email address in the hopes of being the lucky recipient of some pretty fancy skivvies delivered right to your door every three months for a year. We will announce the winner on June 6th. One Scoop du Jour reader is guaranteed to win...so start clicking!



To change your email preferences or unsubscribe, click here.
all content copyright scoop du jour 2005