Connecting the Dots
May 10, 2006
Who doesn't dream of achieving cult status?
Of course we can't all be Jimmy Choo, but that certainly doesn't discourage us from trying.
For some it's easier than others. Case in point: Financial whiz-cum-jewelry designer Alicia VanFleteren. Armed with a degree in business and an obvious flair for color, VanFleteren took up jewelry making as a means of decompressing from her day job. And thus Little Dot Designs was born.
Five years later, VanFleteren's designs have traveled the globe (via her jet-setting clientele).
This San Francisco Bay favorite plays host to numerous private events each season, bringing 'em back time and again by creating a completely original, limited edition collection every six months.
Our personal fave…the Twice as Nice freshwater pearl necklace. But hurry, VanFleteren only creates five of each style.
Did we mention the lifetime guarantee?
Cults…can't live with 'em, can't join 'em.
Well, maybe just this once.
Little Dot Designs is offering Scoop du Jour readers 20% off all online merchandise thru 5/31 when you enter SCOOP upon checkout.
Little Dot Designs is available at Littledotdesigns.com.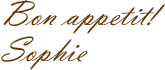 To change your email preferences or unsubscribe, click here.
all content copyright scoop du jour 2005