Tying the Knot
May 2, 2006
Fashion...a finicky friend at best.
That suits us just fine though, as our own tastes tend to possess a bit of ADD (on a good day).
Thanks to former architect Annie Mohaupt's unique line of Finnish birch plywood heels with recycled rubber tire soles, we're able to indulge our ever-evolving style on a daily basis.
Mohaupt crafts her entire line by hand, including the fashion-forward graphics that adorn the footbed. What sets these shoes apart from other spring-ready fare are the interchangeable ribbon ties, which allow the wearer to play the role of Grecian goddess one day and strappy-toed vixen the next.
Or better yet...later that same night.

Available online at Mohop.com.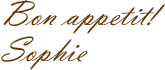 To change your email preferences or unsubscribe, click here.
all content copyright scoop du jour 2005