Slim Pickins
April 18, 2006
We owe the Aussies thanks for many, many imports.
Heath Ledger, Eric Bana, Uggs, to name a few...

That's why we're thrilled to greet the latest arrival from Down Under: the FLATOUTbear.

It might look like a skinnier version of your typical Teddy, but don't confuse a lack of belly with a lack of love. These cuddly cuties are 100 percent sheepskin, and they come in a delicious array of colors like honey, milk, and licorice.
We just hope our order arrives in no time flat.

Because that'll make it a really g'day.

Available online at flatout.com.au.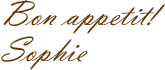 P.S. AND THE WINNERS ARE...Hundreds of you entered but only 4 could win a $50 gift certificate compliments of The Fashion Pulse. Congrats to Jennifer Parks (OH), Courtney Leivers (CT), Zora Warner (TN), & Lulu Mattingly (MA)! Thank you to everyone who participated in this week's drawing. Check back next week for another chance to win fabulous products a la Scoop du Jour!



To change your email preferences or unsubscribe, click here.
all content copyright scoop du jour 2005