Common Scents
March 28, 2006
Doggie daycare, gourmet baby food, chocolate-flavored dessert spray...
Some days we're convinced we've seen it all.
That is, until something new comes along to top it.
Case in point: Perfume especially formulated for our clothes. Both anti-bacterial and odor neutralizing, Fabric Fresh comes in four unique scents, Classic, Lady, Cedar, and our top pick, Baby.
Recommended for use on everyday items in need of some aromatherapy from sneakers to sofas, we're having a hard time wasting notes of sandalwood, bergamot and vanilla on our dingy old tennies.
Just one of a handful of luxe garment care products from The Laundress that include cashmere shampoo, ironing water and static solution...
Who knew gettin' down n dirty could result in such clean fun?
Available online at Thelaundress.com.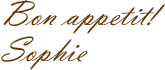 P.S. Fill your style prescription with nedandshell's Weekly Dose. Get the latest trends from the hottest up-and-coming designers and hippest online boutiques featuring bargains, beauty, babies and more. It's all your need-to-know style info in one easy-to-swallow Weekly Dose.



To change your email preferences or unsubscribe, click here.
all content copyright scoop du jour 2005