Seeing Red
March 21, 2006
They say as we age, the memory is the first to go.
We're pretty certain this doesn't include our near-epidemic gym lapses, but we may actually have a solid case where birthdays are concerned.
We have a hard enough time remembering how old we told people we were on our last birthday...how can we possibly be expected to remember other people's milestones, faux or otherwise?
Thanks to Red Stamp Cards, we don't have to. Not only will this gem of a site send us a nifty little note prompting special occasions like birthdays and anniversaries per our own personal calendar, they also happen to have an amazing assortment of cards to boot. (We're talking honest to goodness letterpress for $3.)
They'll even handwrite our message and mail it out for us. It's as simple as picking, personalizing and purchasing postage.
Now if only we could remember where we put our wallet...
Red Stamp Cards is offering Scoop du Jour readers a 10% discount thru 3/28 when you enter SCOOP upon checkout.
Available online at Redstampcards.com.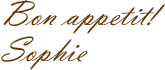 To change your email preferences or unsubscribe, click here.
all content copyright scoop du jour 2005