Cuckoo for Cocoa
March 14, 2006
While we're not always eager to admit it, we seem to possess a bevy of personalities.
Our persona du jour, if you will.
There's the overachieving chick, the silly chick, the adventurous chick & the determined chick. (And those are just the ones we're willing to publicly acknowledge.)
It isn't everyday we find a product that all four chicks can actually agree on, so when we happened upon Chick Chocolates, we knew we had something special.
The all-natural chocolate line created by women, for women offers four distinct flavors...calcium-fortified Strong Chick, toffee & almond laden Nutty Chick, cacao laced Extreme Chick, and our personal fave, raspberry-infused Survivor Chick, which aims to donate 100% of its profits to women's cancer organizations.
The chocolates come three to a box and are each wrapped individually to facilitate sharing, however we must have forgotten to mention our fifth persona...
Selfish chick.
Chick Chocolates are available online at Chickchocolates.com.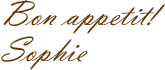 To change your email preferences or unsubscribe, click here.
all content copyright scoop du jour 2005