Goody, Two Shoes
March 9, 2006
Spring's just around the corner, and we all know what that means…

Bye-bye, boots. Hello, flip-flops!

But in the interim, we need something to keep our little piggies warm.

That's why we're cruising over to the Vans website to check out their customizable footwear. Indulge your inner Manolo as you choose the colors and patterns for the vamp, quarter, foxing stripes and other shoe parts for which we have yet to learn the lingo.

With solids like pink, navy, purple, red, and orange (to name a few) and camo, skull and checkerboard patterns to boot, the possibilities may very well drive you crazy. But the online system is so easy to use that you'll eagerly put your best foot forward.

And yes, they do have a bit of a skater-chick edge, but we'll gladly take that over ski bunny any day.

Shop online at Vans.com.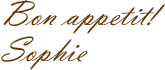 To change your email preferences or unsubscribe, click here.
all content copyright scoop du jour 2005