Joy Luck Club
March 7, 2006
Who among us couldn't use a good luck charm every now and again?
Whether scouring the flea markets for our latest vintage obsession or betting the rent on one hand of Blackjack, a date with lady luck certainly doesn't hurt.
We recently happened upon a surefire way to get lucky...it's all in the cards. Juju cards, that is.
Based on ancient Chinese symbols, these bookmark-sized designs from JOY by Mel Lim are believed to bring good fortune to its recipients.
Choose from such versatile themes as Double Happiness to ensure wedded bliss, Bamboo to affirm strength in adversity, and Monkey as a means of securing career advancement.
As far as we're concerned it's the only card you shouldn't leave home without.
JOY by Mel Lim is offering Scoop du Jour readers a 15% discount on all merchandise thru 4/8 when you enter SCOOP upon checkout.
Shop online at Joybymellim.com.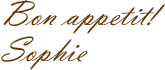 To change your email preferences or unsubscribe, click here.
all content copyright scoop du jour 2005