Small World
March 2, 2006
We're all for luxury travel.
(Who isn't?)

But bulky guidebooks and never-ending online searches can quickly suck the joy right out of a vacation.

That's why we're thanking our lucky stars for the Little Cream Books.

These slim, stylish address books suggest one locale per letter, and they're available in three themes to point us in the right direction. Seek out Goodwill for volunteer work, Powder for winter activities, and Cool Destinations for everything from romance to adventure.

Of course, the hot spots (or cold spots, as the case may be) go beyond the basics. We flipped through the trio and found a horse-drawn sleigh ride in Austria, castle restoration in Germany, and an ice hotel in Sweden.

Now we turn to these lightweight wonders for the very best of what's around.

You know, the Cream of the crop.

Available online at littlecreambook.com.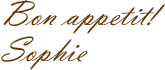 P.S. Marie Claire's All New Haute Shopping Rewards is open for business! Log on to hauteshopping.com today, create a user account, shop for must-have items for spring, and reap the rewards. It's all just a click away. Shopping has never been easier or more rewarding.



To change your email preferences or unsubscribe, click here.
all content copyright scoop du jour 2005