Material Girl
February 28, 2006
Just because we notice labels doesn't make us superficial.

We prefer the term "observant."

If we're judging—oops, observing—others, they're probably checking us out too. And Versace, Dior and Manolo aren't exactly in the budget.

Unless, of course, we're shopping Rodeo Drive Resale, a California consignment shop offering new and pre-owned designer duds for a fraction of the retail price.

This amazing online boutique carries runway-worthy items like Prada skirts, Gucci mules and D&G shades.

Finally, we can afford to stock up on Chloe tops, Marc Jacobs jackets & Carolina Herrera dresses (with the knowledge that they may have come straight from the personal wardrobe or onscreen outfit of a celeb).

Not that we're into the name game or anything.
Rodeo Drive Resale is offering Scoop du Jour readers a 10% discount when you enter SCOOP26 upon checkout.
Shop online at Rodeodriveresale.com.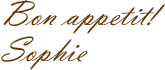 P.S. What self-respecting shopper doesn't love a bargain? At MonkeyBargains.com you can save at your favorite online stores, from Anthropologie to Zappos and everything in between! Sign up to receive their Deal Alert and they'll send you the best coupon they've got once a week. With valid coupons from more than 2,500 stores and deals like free shipping at Sephora and 50% off select items at Steve Madden, you definitely don't want to miss this!



To change your email preferences or unsubscribe, click here.
all content copyright scoop du jour 2005