After the Fall
September 1, 2005
We've had a blast this summer here at Scoop du Jour.
We scoured the marketplace, churned out our favorite Scoops and served them up to you, all the while being chained to our laptops.
Frankly, we wouldn't change a thing.
Speaking of change...we're off to begin a little fall break, but we promise to be back even bigger and better than before.
If you find yourself craving a Scoop or two in the meantime, our Archive Page is just a mouse-click away.
We may still send out the occasional Scoop if the mood strikes, but all in all you won't be hearing much from this camp over the next couple of months.
When we return there may even be a new Scoop added to the menu...a kiddie cup, if you will.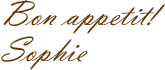 To change your email preferences or unsubscribe, click here.
all content copyright scoop du jour 2005