Sweet Tooth
August 30, 2005
Boyfriends should spoil us with surprises.

We're talkin' spontaneous trips to Maui, breakfast in bed and curry kisses.
Weren't expecting that last one, huh?

Well, with Breath Palette toothpaste, that's exactly what you'll get. These hygienic helpers come in 32 flavors from Caramel to Cola to Cafe au Lait.

Of course, don't worry if you (and your boyfriend) get tired of Blueberry.

It's just the flavor of the mouth.

Breath Palette toothpaste is available at breathpalette.com.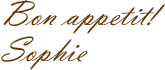 To change your email preferences or unsubscribe, click here.
all content copyright scoop du jour 2005