Once Upon a Brownie
August 25, 2005
It isn't everyday that we can boast about having eaten twelve brownies in the course of one afternoon.
Okay, so maybe it happens more often than we'd care to admit, but the number of times it's actually happened due to really good brownies...well, that we can count on one hand.
After receiving a sampler box of Fairytale Brownies in the mail, we weren't quite sure where to start. With a dozen flavors to choose from, we clearly needed a system.
Alphabetical order seemed as good a method as any, and thus we kicked it off with Amaretto. (Let's just say it wasn't a pretty sight by the time we hit Walnut.)
Made with pure Belgian chocolate, fat-free isn't exactly in the mix, but our ongoing sugar high was more than enough to get us on the treadmill.
How's that for magic?
Fairytale Brownies are available at brownies.com.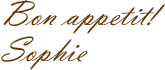 P.S. AND THE WINNER IS...Hundreds of you entered but only 10 could win a full-size tube of it gloss (valued at $17) compliments of stila cosmetics . Congrats to Risa Goldberg, Emma Kynoch, Mona Railan, Danni Pearlberg, Deborah Shapiro, Lauren Cornell, Rachelle Schwartz, Elicia Allen, Lindsey Crow & Andrea Shultz! Thank you to everyone who participated in this week's drawing. Check back next week for another chance to win fabulous products compliments of Scoop du Jour!



To change your email preferences or unsubscribe, click here.
all content copyright scoop du jour 2005