Stretch Armstring
August 23, 2005
Once upon a time, cell phones were an emergency-only gadget.

Nowadays landlines are nearly extinct as the cellie takes front and center.

Thanks to T-String we're able to bring our little buddies with us wherever we go, even on the running trail.

These elastic accessories hold cell phones and mini iPods in place with a Velcro band that attaches to your wrist or handbag strap and come in 25 different styles.

So now you can gab with your girlfriends as you embark on your cool-down walk...
Or better yet, call someone to pick you up when you get tired.

Ain't technology grand?

T-Strings are available at tstringusa.com.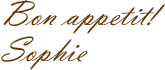 P.S. It's time to kiss and makeup! Ten lucky Scoop du Jour subscribers will win a full-size tube of it gloss (valued at $17) compliments of stila cosmetics . You know the drill...Simply send us an email with your name and mailing address and we'll announce the winners in this Thursday's Scoop!



To change your email preferences or unsubscribe, click here.
all content copyright scoop du jour 2005