I'm With the Band
August 18, 2005
Our mothers always warned us not to put our drinks down at parties.

Of course, we doubt their concern was that we'd lose 'em.

Whatever the reason, we're old enough to ignore their advice and let go of the liquor. Thanks to Beer Bands, we'll never mix up our bottles again.

These Livestrong-looking labels come in 12 colors for easy ID-ing of your brew.
Or point out your poison with a personality band that describes your under-the-influence attitude. Choose from words like "snob," "tease" or "desperate" to designate your drink.

Because if you don't take a break, you just may earn that "bed wetter" moniker after all.

And didn't Mom raise you better than that?
Beer Bands are available at poopsies.com.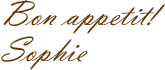 P.S. AND THE WINNER IS...Hundreds of you entered but only 3 could win a $50 gift certificate to the HMC store compliments of Hot Mom's Club Magazine. Congrats to Stephanie Miller (AZ), Amy Ozur (CA) & Manisha Joshi (FL)! Thank you to everyone who participated in this week's drawing. Check back next week for another chance to win fabulous products compliments of Scoop du Jour!



To change your email preferences or unsubscribe, click here.
all content copyright scoop du jour 2005