For Love or Money
August 16, 2005
We started planning our fairytale wedding in preschool.

And now that it's finally time to tie the proverbial knot, we've nailed down all the essentials.
Mile-high cake? Check! White roses? You betcha! Vera Wang gown? Uh…

Well, we certainly found it, but the price tag for perfection fell a little beyond our budget.

Luckily, About A Dress offers designer wedding gowns for a fraction of the in-store cost. From Badgley Mischka to Reem Acra, founder Heidi Rodriguez gives brides something to blush about.

And because this sample sale is virtual, you won't have to play tug-of-war over that last lacy number with Bridezilla incarnate.

You always knew someday your prince would come.

You just didn't know his name would start with www.
For more information, please visit aboutadress.com.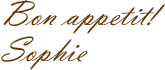 P.S. Calling all hot moms...Three lucky Scoop du Jour subscribers will win a $50 gift certificate to the HMC store compliments of Hot Mom's Club Magazine. You know the drill...Simply send us an email with your name and mailing address and we'll announce the winners in this Thursday's Scoop!



To change your email preferences or unsubscribe, click here.
all content copyright scoop du jour 2005