Buckle Up
August 11, 2005
As summer winds down, it's finally time to trade in those bohemian skirts for our favorite pair of dungarees.

But after shedding those pounds for bikini season, the denim just won't stay up.

Thank goodness for Bennie and Olive and their adorable line of not-so-basic belts.

The metal buckles demonstrate pure originality as images like fruit bowls, cameos and the old New York skyline take front and center.

The leather bands come in black, brown & white, and the buckles snap off so you can alternate them as often as you like.

But don't gloat too much about how your new accessories came to be...

That sort of behavior hits way below the belt.
Bennie and Olive belts are available at virginthreads.com.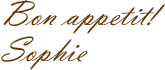 P.S. AND THE WINNER IS...Hundreds of you entered but only 3 could win a bottle of Visualift eye cream ($105 value) compliments of Sonya Dakar. Congrats to Elizabeth Fox (OR), Rebecca Battle (GA) & Jayne Korte (OH)! Thank you to everyone who participated in this week's drawing. Check back next week for another chance to win fabulous products compliments of Scoop du Jour!



To change your email preferences or unsubscribe, click here.
all content copyright scoop du jour 2005