Dog's Best Friend
July 26, 2005
Picture how cranky you'd be if you found yourself in ninety-degree heat sans water bottle.
Now imagine that you're tied to a parking meter...in a fur coat.
It's amazing that our four-legged friends want anything to do with us after such blatant displays of unaffection, but yet there they are, week after week, pipe and slippers in tow.
We think it's high time we reciprocate some of that unabashed loyalty and buy these poor guys a drink.
With the Expand-A-Bowl from Flight 001 you can do just that all summer long. The frisbee-like zippered pouch opens to reveal a 6-inch dog bowl that's perfect for weekend travel or urban city dwelling.
Available in fuchsia, brown and blue, you're sure to find a color that suits either Fido or Fifi.
Because we're sure they're not as picky as you...
Which is precisely why we love them so.
The Expand-A-Bowl is available at flight001.com.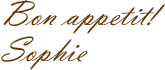 P.S. Donít forget to check out Girlshop.com, the online mega-boutique for under the radar fashion. The site is offering 50-80% off select merchandise during their summer sale. BONUS: During their Summer Spree (July 25th-August 1st), get an additional 20% off everything on the site...sale stuff and new fall merchandise! The bonus discount is good on Totshop.com and Guyshop.com too! Happy shopping...



To change your email preferences or unsubscribe, click here.
all content copyright scoop du jour 2005