Perk Me Up
July 21, 2005
We'd hate to be labeled gossips, but sometimes you just gotta spill the beans...
Coffee beans, that is.
Crazy Rumors, a fresh new beauty line, is serving up Lip Lattes and Tea Balms.
The coffee-concentrated Perks offer a menu of amaretto, French vanilla and hazelnut, while the tea-infused Brews spout flavors like apple spice, ginger peach and spiced chai.
The tiny tubes and tins are perfect for popping in your purse, but their enticingly authentic scents still pack plenty of punch, allowing you to ditch the a.m. Starbucks routine and add a dash of glam to your fix instead.
So how did we discover these tantalizing treats?
Sorry, our lips are sealed.
Crazy Rumors lip balms are available at crazyrumors.com.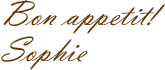 P.S. AND THE WINNER IS...Hundreds of you entered but only 5 could win a $30 gift certificate compliments of Swaddle Spa. Congrats to Mollie Griswold (NY), Susan De Luca (SC), Chelsea Correia (NV), Jessica Nem (IL) & Robyn Hunter (MA)! Thank you to everyone who participated in this week's drawing. Check back next week for another chance to win fabulous products compliments of Scoop du Jour!



To change your email preferences or unsubscribe, click here.
all content copyright scoop du jour 2005