Dry Spell
July 5, 2005
That cannonball sure seemed like a good idea at the time.

But now that we have to pack up and return to reality, that damp bathing suit is staring at us despondently. How dare we toss it in a Ziploc after it helped us look so fabulous poolside?

Luckily, there's the waterproof Wet Bikini Bag from Uncommon Goods. Flaunting an image of a bathing beauty and the famous "Itsy bitsy teeny weeny" lyric, this cotton case is perfect for housing your polka dot bikini.

Or if you're more of a sun goddess than a mermaid, you can use it to tote your sunscreen and 'zines to a designated lounge chair.

But be sure to sit under an umbrella...

You never know when someone might attempt a cannonball.

The Wet Bikini Bag is available at uncommongoods.com.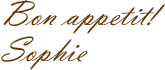 P.S. Fashionistas take note...Two lucky Scoop du Jour subscribers will win the tank of their choice (valued at $100) compliments of designer diva Meredith Straus. (Excludes White Floral Appliqué Tank). You know the drill...Simply send us an email with your name and mailing address and we'll announce the winners in this Thursday's Scoop!



To change your email preferences or unsubscribe, click here.
all content copyright scoop du jour 2005