Wax On, Hair Off
June 30, 2005
Waxing...can't live with it, certainly can't go to the beach without it.
One thing we can manage to live without, however, is the price tag. We figured it was high time we took matters into our own hands...literally.
Drawing on past experience, we were somewhat skeptical of at-home waxing kits. Between the large tubs of gooey wax just begging to be heated and the cumbersome strips that needed to be custom-cut, we'd had our share of "sticky" situations.
You can imagine our joy when we came across the self-contained, self-heating, double-sided wax strips from Parissa. Available in two sizes, face & bikini and legs & body, and both for under $11, they're also ideal for touch-ups and travel.
And seeing as the earth's surface is made up of 71% water, that sure adds up to a whole lotta' beaches.
Parissa Wax Strips are available at parissa.com.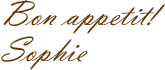 P.S. AND THE WINNER IS...Hundreds of you entered but only 10 could win the bestselling book World's Best-Kept Beauty Secrets from beauty expert Diane Irons. Congrats to Lisa Levenson, Rosa Ramos, Kristen Monda, Victoria Lee, Gwen Aldrich, Courtney McCann, Stefanie Coslow, Meredith Page, Susan Mitchell & Dana Kantalis! Thank you to everyone who participated in this week's drawing. Check back next week for another chance to win fabulous products compliments of Scoop du Jour!



To change your email preferences or unsubscribe, click here.
all content copyright scoop du jour 2005