Wrap Stars
June 23, 2005
Between e-mails, assignments and phone calls, it's easy to feel like work controls our lives.

Seriously, wouldn't it be nice to be wrapped in something besides stress?

Well, Anne Segal (as in Fred's daughter) and Amie Robinson have designed a super-soft way for us to envelop ourselves in optimism with the debut of their new line.

Available in eight colors, THE WRAP is adorned with positively uplifting words. Fall in Love with pink, put your Faith in carrot ginger or show off your Spirit with yellow.

Then muster the Courage to be creative as you drape it around your shoulders like a shawl, pin it around your torso like a tube top or tie it around your waist like a cover-up.

Enjoy exploring your newfound Freedom, but be sure to have Patience as you test out the possibilities.

Because adaptable accessories shouldn't stress us out.

That's what the office is for.

THE WRAP is available at bellegray.com.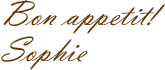 P.S. AND THE WINNER IS...Hundreds of you entered but only 3 could win a Crest tank (valued at $65) compliments of Mayandree New York. Congrats to Brittany Hudgens (AL), Dina Moreth (IL) & Jennifer McKinley (MA)! Thank you to everyone who participated in this week's drawing. Check back each week for more chances to win fabulous products compliments of Scoop du Jour!



To change your email preferences or unsubscribe, click here.
all content copyright scoop du jour 2005