Perfect Scents
June 21, 2005
We fight the good fight to be perfect hygienic specimens on a daily basis.
We shower, shave, exfoliate, deodorize, moisturize, manicure, pedicure and wax.
Yet somehow after a hot and humid day we still come out smelling a few petals short of a rose.
Enter Melon...
Known for their stellar collection of edgy fishnets, they've just introduced a line of powder-scented underwear that lasts up to fifteen washes. Seamless and available in fullback or thong, they come in eight color combos sure to deliver that oh-so-fresh feeling.
Because even the most coiffed among us need a good kick in the pants from time to time.
Melon Scented Underwear is available at melonfashion.com.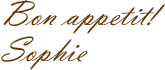 P.S. Now that summer is officially here, it's time to dress the part! Three lucky Scoop du Jour subscribers will win a Crest tank (valued at $65) compliments of Mayandree New York. You know the drill...Simply send us an email with your name and mailing address and we'll announce the winner in this Thursday's Scoop!



To change your email preferences or unsubscribe, click here.
all content copyright scoop du jour 2005