Stretch Marks the Spot
June 9, 2005
Remember Silly Putty? You'd stretch and pull it every which way and yet it always managed to revert back to its original shape.
If only our skin was made of that stuff...
Thanks to the advent of Belli Cosmetics' Pregnancy Care line, which includes its cult-classic Elasticity Belly Oil and Stretchmark Minimizing Cream, stretch marks may finally become a thing of the past.
Not just for pregnant women, (why should they have all the fun?) these physician-formulated skincare products incorporate good old-fashioned research with natural ingredients like vitamin E, cocoa butter, lavender and Gotu Kola, proven to decrease the risk of stretch marks by 39%.
With bikini season upon us, the choice is pretty clear...
We can either opt for thighs of Silly Putty or just plain putty.
Now that would be silly.
The Belli Cosmetics Pregnancy Care Line is available at bellicosmetics.com.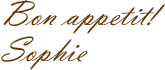 P.S. AND THE WINNER IS...Hundreds of you entered but only 1 could win a couture tee (valued at $110) compliments of Barbra Horowitz and Rigged. Congrats to Jessica Horani (FL)! Thank you to everyone who participated in this week's drawing. Check back each week for more chances to win fabulous products compliments of Scoop du Jour!



To change your email preferences or unsubscribe, click here.
all content copyright scoop du jour 2005