Life's a Beach
June 7, 2005
Sally schleps sunscreen to the seashore...We dare you to say that three times.
Throw in the tunes, shades and chick lit and Sally's almost set for a day at the beach.
It can be a real challenge to tote your bevy of belongings, but maybe it's not so bad to be called a bag lady after all.
We're absolutely hooked on Toalha terry totes from Ira Salles. These hot handbags come in cool colors like mint, yellow and baby pink and the side pockets make them perfect for storing your sandy stash.
We doubt you'll have to fish for compliments from your fellow bronzing beauties either.
Unless of course they're too tongue-tied.
Ira Salles Toalha totes are available at rapunzelsfl.com.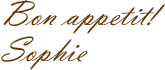 P.S. We love few things as much as we love customized fashion. Thanks to the handiwork of Barbra Horowitz and her company Rigged, one lucky Scoop du Jour reader will have the chance to experience couture t-shirt fashion at its finest with a custom-cut top made just for her (valued at $110). You know the drill...Simply send us an email with your name and mailing address and we'll announce the winner in this Thursday's Scoop!



To change your email preferences or unsubscribe, click here.
all content copyright scoop du jour 2005