Signed, Sealed, Delivered
May 19, 2005
Though we openly confess our addiction to e-mail, we sometimes LOL at the casual correspondence.
We're not JK that we wish we could BRB to the good old days of snail mail.
But before you go totally postal on us for advocating handwritten letters, turn ASAP to PhotoStamps and make your memos picture perfect. Wave goodbye to the standard American flag and upload your favorite photo instead.
Simply shift and rotate the image to your liking and customize your creation with a colorful border. Order 20-label sheets in values for postcards, regular envelopes or priority mail and send your loved ones a note of substance.
OMG, we just know Grandma will adore your personal touch...
As long as it's S.W.A.K.
PhotoStamps customized stamps are available at photostamps.com.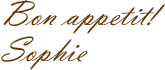 P.S. AND THE WINNERS ARE...Hundreds of you entered but only 10 could win a pack of 20 Slingstay invisible strips that promise to hold your sling backs in place. Congrats to Rubi Mendoza (CA), Liz Hendrickson (WA), Dipti Shah (MD), Meredith Ownby (WI), Erin Haddigan (CO), Laurie Diedrick (IL), Jessica James (PA), Dana DuTerroil (LA), Lynn Boyd (AL) & Jessica Silverstein (NY)! Thank you to everyone who participated in this week's drawing. Check back each week for more chances to win fabulous products compliments of Scoop du Jour!



To change your email preferences or unsubscribe, click here.
all content copyright scoop du jour 2005