Big Snack Attack
May 17, 2005
We know those late night munchie runs are a thing of the past (if you say so), but that doesn't mean a girl can't get a craving every now and again.
When we find ourselves down to our last penny (they aren't giving those Jimmy Choos away you know) our Slurpee days tend to come a callin'...and how.
Thanks to the creativity of co-authors Victoria Traig & Christopher Rouser and their new book Mini-Mart á la Carte, we can score quickie meals like SPAM Wellington and Twinkie Surprise in the comfort (and privacy) of our own home...where the guilt tends to melt away as effortlessly as a nuked jar of Cheez Whiz.
Why traipse all over town seeking out those elusive gourmet ingredients when everything you need to whip up a delicious, not-quite-nutritious meal can be found at your local corner store?
With over 50 fun recipes to choose from, you'll be able to boast your culinary skills in no time flat...
Now that's convenience.
Mini-Mart á la Carte is available at amazon.com.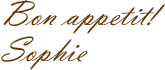 P.S. Women of the world unite...Our sling backs will forever more stay put! Thanks to Slingstay, one of our most favorite female innovations, we can actually make good on our promise. Ten lucky Scoop du Jour subscribers will win a pack of 20 invisible Slingstay strips...enough for 10 pairs of your most uncooperative shoes. You know the drill...Simply send us an email with your name and mailing address and we'll announce the winners in this Thursday's Scoop!



To change your email preferences or unsubscribe, click here.
all content copyright scoop du jour 2005