Lucky Charms
May 12, 2005
Every day we're faced with new temptations…
Sunglasses? New lipstick? Designer shoes?
Usually we behave, but sometimes we just can't fight the magnetism of material goods. When we can't beat 'em, we simply indulge 'em.
Designer Grace Chan lets us abandon our self-control with her appropriately named Indulgems jewelry line.
Chan's creations start with sterling silver, 14K gold or 14K gold-filled chains and beautifully transform into gemstone-encrusted necklaces, bracelets, earrings and rings.
We just can't get enough of the latest collection which flaunts Faberge-style charms in the shape of ladybugs, eggs, balloons and fish.
Trendy enough to keep up with the crowd but classic enough to last beyond the season, these alluring accessories will never fail us.
If only we could say the same for our willpower.
Indulgems is offering Scoop du Jour readers a free $50 sterling silver gemstone lariat with any purchase when you enter the promo code SCOOP DU JOUR upon checkout.
Indulgems jewelry is available at indulgems.com.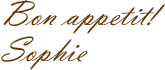 P.S. AND THE WINNERS ARE...We've never received so many entries before but only 15 readers could win 2 oz. bottles of soul owner and time on your hands lotions (combined retail value $20) compliments of philosophy. Congrats to Jenny Lee, Sandra Lopez, Melanie Morin, Amy Stortz, Elsa Richter, Katie Saifuku, Pamela Grove, Chloe Langer, Stacy Jacobs, Melissa Kruse, Ashley Misner, Jessica Meyer, Susan McCarthy, Christine Shainin & Kathleen Merlo! Thank you to everyone who participated in this week's drawing. Check back each week for more chances to win fabulous products compliments of Scoop du Jour!



To change your email preferences or unsubscribe, click here.
all content copyright scoop du jour 2005