Dog Days of Summer
May 10, 2005
Remember a time when the mere thought of envying our pets' wardrobes was about as likely as them actually having one?
When a dog's one and only outfit was (gasp) fur, a vinyl collar and some tags?
Well you can lick those days goodbye...
Fido's summer duds have finally begun to rival ours and we find ourselves wondering (aloud, we might add) where we can score some in our size.
Thanks to Kwigy-Bo's new collection of pique polos, tennis vests and sequin tees, our closets won't be any better for it, but our yuppie puppies can finally go clubbing, as in country, in style.
And for those micro-pups with the macro-inferiority complexes, the skull and crossbones hoodie should have 'em walking tall in no time.
We haven't found the outfit to help us tackle our inferiority complex just yet, but we're thinking we oughtta start by dressing better than our dogs.
Hey, you never know.
To view the spring/summer collection or to find a store location, please visit kwigy-bo.com.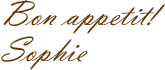 P.S. Beauty is in the eye of the beholder, right? Then behold philosophy's best-kept beauty secrets for feet and hands. 15 lucky winners (yes, you heard us right) will win 2 oz. bottles of soul owner and time on your hands lotions (combined retail value $20) compliments of philosophy. You know the drill...Simply send us an email with your name and mailing address and we'll announce the winners in this Thursday's Scoop!



To change your email preferences or unsubscribe, click here.
all content copyright scoop du jour 2005