Twinkle Toes
May 3, 2005
Once upon a time, we were destined to be prima ballerinas. We were graceful, dainty and oh-so-slim.
Then we found ourselves torn...Ballet or Ben & Jerry's?
We admit it wasn't all that tough performing our final pirouette with Cherry Garcia waiting in the wings.
But when flats came back in style, we started to miss our former footwear. Thanks to La Voleuse and their handpainted slippers, we can don our dancin' shoes once again.
How to stage your comeback? It's easy as 5, 6, 7, 8…
Pick from 15 dye colors like turquoise, gold or fuchsia. Choose a tattoo design among hearts, roses and ice cream cones (our personal fave). And select a song lyric such as "Tiny dancer in my hand" or "All that glitters is gold."
Then let designers Stevie Remsberg and Meg Moorhouse work their magic as they paint the image and expression across the toe.
Perhaps we should mention that La Voleuse means "female thief."
Guess that explains why you're stealing the spotlight.
La Voleuse is offering Scoop du Jour readers 15% off your order when you mention SCOOP. To receive the discount, please email your order to sales@lavoleuse.com.
La Voleuse custom ballet slippers are available at lavoleuse.com.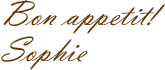 P.S. How sweet it is...Two lucky Scoop du Jour subscribers will win a $50 gift certificate compliments of MARvelousGoodies.com. (Mother's Day anyone?) You know the drill...Simply send us an email with your name and mailing address and we'll announce the winners in this Thursday's Scoop!



To change your email preferences or unsubscribe, click here.
all content copyright scoop du jour 2005