In Our Clutches
April 28, 2005
Finding the perfect evening bag is somewhat of an art form, like pastry making or glassblowing.
Okay, perhaps we overshot a bit on that last one, but anyone who's ever taken on the arduous task of coordinating their bra with their hair color on a Saturday night can definitely relate to the added challenge of throwing accessories into the mix.
Thankfully, we've found a line of clutches for spring that has all the bells and whistles, appropriately named, well...bells&whistles.
Made from rich, buttery leather adorned with appliqués in a (garden) variety of organic patterns including cherry blossoms, philodendron and birds of paradise, these bags are a little bit country and a little bit rock 'n roll.
Osmonds eat your hearts out...Lord knows everyone else will.
bells&whistles is offering Scoop du Jour readers 20% off when you mention SCOOP DU JOUR. Please email your order to info@allthebellsandwhistles.com and include a phone number and they will get in touch with you.
bells&whistles handbags are also available at virginthreads.com. (No discount will apply.) For additional styles and store locations, visit allthebellsandwhistles.com.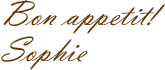 P.S. AND THE WINNERS ARE...Hundreds of you entered but only 4 could win a Kept Couture lingerie bag (valued at $35) compliments of Maiden America. Congrats to Jenna Fogle (MA), Marjorie Jorgenson (GA), Marci Greenfield (NY) & Andrea Stow (CO)! Thank you to everyone who participated in this week's drawing. Check back each week for more chances to win fabulous products compliments of Scoop du Jour!




To change your email preferences or unsubscribe, click here.
all content copyright scoop du jour 2005