It's a Wrap
April 26, 2005
As bikini-clad models invade the pages of our favorite fashion mags, we're feeling a bit reluctant to follow their lead.
Not that we have a problem with skimpy tanks and barely-there skirts, but whatever happened to leaving something to the imagination?
How 'bout defying the trend of stripping down by adding yet another layer instead?
Designer Karen Zambos teamed up with actress Selma Blair to launch Elegantly Waisted, a collection of studded and cummerbund-style leather belts. Though colors like ivory and gunmetal remain relatively neutral, the reaction from your friends will be anything but.
Need another way to wow onlookers? Simply wrap your waist with a brass buckle belt from the Karen Zambos Vintage Couture line and prove that suede can (and should) be worn year-round.
Sure, we could flaunt our itty bitty figures in the sun, but why fight the UV rays when we look this good covered up?
Finally, the kind of exposure we've been looking for.
Shopbop is offering Scoop du Jour readers 15% off any Karen Zambos Elegantly Waisted Belt from Tuesday, April 26th thru Friday, April 29th when you enter ZAMBOS upon checkout.
To view all Karen Zambos products, please visit Shopbop.com.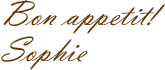 P.S. Want to give your lingerie that oh-so-fresh feeling all year round? Four lucky Scoop du Jour subscribers will win a Kept Couture lingerie bag (valued at $35) compliments of Maiden America. You know the drill...Simply send us an email with your name and mailing address and we'll announce the winners in this Thursday's Scoop!



To change your email preferences or unsubscribe, click here.
all content copyright scoop du jour 2005