Opposites Attract
April 12, 2005
We would totally jump on the acupuncture bandwagon...if the path to relief didn't require so many needles.
But really, healing our aches shouldn't be such a pain.
Luckily, in our quest for alternative medicine, we finally found true Bliss…as in London import Holistic Silk slippers from mega-beauty purveyor Bliss.
They're pretty brocade shoes with cute little bows on the outside, but they stealthily sport magnetic massaging insoles on the inside. Sit back and relax as these removable pieces roll along the bottoms of your feet to stimulate reflex points and increase circulation.
And there's no need to stress when you can't decide between the silver and jade. (Wouldn't that defeat the point?)
We suggest buying both to expand your holistic ways.
You'll surely feel stylish and serene.
In mind, body and sole.
Holistic Silk slippers are available at blissworld.com. UK shoppers get 15% off at holisticsilk.co.uk when you mention SCOOP DU JOUR.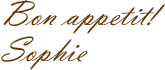 P.S. A girl can never have too much jewelry. One lucky subscriber will win the Lizzie Eno necklace of her choice (valued at $150) compliments of Junk In Our Trunk. You know the drill...Simply send us an email with your name and mailing address and we'll announce the winners in this Thursday's Scoop!



To change your email preferences or unsubscribe, click here.
all content copyright scoop du jour 2005