Weigh Cool
April 7, 2005
It takes a whole lot to get us on the scale these days.
A routine visit to the doctor just ain't gonna cut it.
But we may have found the one thing convincing enough to coax us into getting our digits...Art de Toilette's funky scales.
Artist Wendy Gold currently offers six styles including "Willpower" which features a refrigerator door and "Bittersweet," a box of gourmet chocolates. You may very well be too darn busy laughing to care about the numbers.
Okay, perhaps a brief chuckle is more like it.
Gold has also created one-of-a-kind decoupage toilet seats for the likes of Jack Nicholson and Sean Penn.
Talk about being on a roll...
Art de Toilette is available at artdetoilette.com.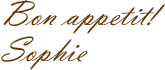 P.S. AND THE WINNERS ARE...Hundreds of you entered but only 2 could win a Sterling Silver dipped 4-leaf clover necklace (valued at $88) from Michelle Roy. Congrats to Joanna Benjamin (IL) & Jaime Moy (D.C.)! Thank you to everyone who participated in this week's drawing. Check back each week for more chances to win fabulous products compliments of Scoop du Jour!



To change your email preferences or unsubscribe, click here.
all content copyright scoop du jour 2005