Da Bomb
April 6, 2005
When we envision shopping like a celebrity, images of complimentary Cristal, cashmere-clad mini pooch in tow and discounts up the wazoo quickly come to mind.
Thanks to Daszign.com not only can we shop like the stars, we can actually shop where they shop. Celebs like Eva Longoria, Jessica Alba & Rachel Bilson frequent this Miami-based fashion mecca and now so can you, with nary a boarding pass in sight.
This ultra-hip website is chock full o' all the labels we need to satisfy our oh-so-wide range of emotions...
Lines like Rebecca Taylor, Gold Hawk and Joie speak to the drama queen in us while staples such as Juicy, James Perse and C & C abound for those days when we just can't muster up the energy to get off the couch.
And for the moments we're feeling blue, we get to bask in denim galore by the likes of Hudson, Citizens of Humanity, Paige Denim & True Religion, to name a few.
So what if our autograph is only gracing credit card slips for the time being?
With just the right ensemble, there's no telling how far we can go.
Daszign.com is offering Scoop du Jour readers 20% off all orders over $100 when you enter SDJ upon checkout. Offer valid thru 5/6/05.
!!!CLICK HERE TO START SHOPPING!!!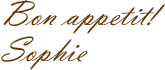 To change your email preferences or unsubscribe, click here.
all content copyright scoop du jour 2005