Rude Awakening
March 24, 2005
Sure, you're made of sugar and spice and everything nice, but sometimes you've just gotta tell it like it is.
Tongue-tied?
No problem. All you need is a set of Rude Cards.
These handmade beauties come five to a pack and let you say what's on your mind--without actually saying anything at all.
The pretty pink flowered pattern says, "You are selfish and rude" on the outside "But I need to network with you and I know you know important people" on the inside.
Or pick a style that's blank inside like, "Let's play the 'You Don't Mind That I'm Dating Other People' Game, okay?"
Because even when you're being blunt, your comments should be short and sweet.
Kind of like you.
Rude Cards are available online at blakelyink.com.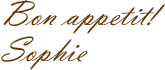 P.S. AND THE WINNERS ARE...Hundreds of you entered but only 5 could win an interactive personal trainer (valued at $34.99) from Yourself!Fitness. Congrats to Julia Feldman (CA), Ainsley Kerr (Toronto), Christine Greenwald (NY), Karen Macartney (VT) & Ashlie Warren (GA)! Thank you to everyone who participated in this week's drawing. Check back each week for more chances to win fabulous products compliments of Scoop du Jour!



To change your email preferences or unsubscribe, click here.
all content copyright scoop du jour 2005