Have Tote, Will Travel
March 17, 2005
We know it's a bit early to be contemplating summer Fridays, but heaven knows it's not the unlimited supply of staples that gets us through the workweek.
But we digress...it also helps to have a little motivation by way of fashionable tote bag roomy enough to house a bikini, sandals, going out clothes, staying in clothes, extra set of going out clothes (you never know), laptop and a healthy snack for the ride to the beach.
Talene Reilly's incredibly stylish yet highly functional collection of handbags makes it easy to plan ahead, be it three weeks or an entire season (or two).
Available in a variety of hip color combos and styles, with names like Jada, Salma and Reese there's no question these babies have star power.
What's more, each bag comes equipped with a matching laptop sleeve just in case that deadline decides to rear its ugly head over cocktails.
And hey, if summer Friday somehow happens to turn into summer Monday, well...
that's what wireless is for.
Talene Reilly is offering Scoop du Jour readers 20% off all merchandise when you enter SCOOP upon checkout thru 3/31/05.
The Talene Reilly collection is available online at talenereilly.com.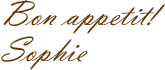 P.S. AND THE WINNERS ARE...Hundreds of you entered but only 12 could win a personalized card set (valued at $18.50) from Flirty Girly Pink. Congrats to Nicole Prowell (CT), Jori Kaplan (CA), Susan Fox (IL), Dana Thomas (HI), Natalie Chen (NY), Hillary Phillips (MS), Misha Sedgwick (CA), Jamie Lai (TX), Jordana Rutkoff (IL), Michelle Thomas (AZ), Betta Peterson (MN) & Amy Lustig (NY)! Thank you to everyone who participated in this week's drawing. Check back each week for more chances to win fabulous products compliments of Scoop du Jour!



To change your email preferences or unsubscribe, click here.
all content copyright scoop du jour 2005