American Woman
March 11, 2005
What if we told you there was a website out there as eclectic as the great U.S. of A?
A virtual melting pot, if you will.
Maiden America is chock full 'o all the goodies a gal could ever want, from drool-worthy jewels from Roxanne Assoulin for Lee Angel to vintage-inspired stationery from Paperdolls that's sure to get your pen moving.
As for the in-between, Maiden America has a knack for stocking the items that end up in the pages of your favorite fashion rags, like yummy sheet spray from The Good Home Co. and Kept Couture lingerie bags, a travel must-have.
As if their fab selection wasn't enough, the site also offers a free weekly fictional series called "Maidens in America" about a group of women obsessed with, you guessed it...fashion and beauty!
Where else in the world could you find designer dog toys, Pucciesque hats & mocha java lip balm all under one roof?
Only in America.
Like you really had to ask.
In addition to receiving free 3-day shipping on all orders over $75, Scoop du Jour readers will enjoy 10% off their entire order when they enter SCOOP upon checkout. Offer valid thru 3/18.
Please visit maidenamericastyle.com.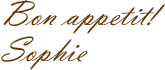 To change your email preferences or unsubscribe, click here.
all content copyright scoop du jour 2005