Pret-a-Martini
March 3, 2005
Lushes we're not, but sometimes a girl's just gotta get her drink on...
And how.
In the midst of such moments, there's no fussing with shakers or those creepy little smiley-faced tools.
With our Zima days safely tucked away in the early nineties, a new crop of ready-made libations has begun to surface. Our pick? Cocktails by Jenn.
A perfect mix of form and function, these single-serve bottles come in an adorable four-pack tote and are currently available in 4 flavors...Lemon Drop, Appletini, Tropical Blue Lagoon and the ever-popular Cosmo.
Created by a former fashion editor who was inspired by her own weekly Girls' Night In parties, Cocktails by Jenn are sure to be a welcome alternative to any bar scene.
Unless of course you're a Zima kind of gal.
We'd hate to cramp your style.
Cocktails by Jenn are currently available at Safeway, Vons and Pavilions stores throughout CA, AZ & NV. A nationwide launch is set for 2005. For more information, please visit cocktailsbyjenn.com.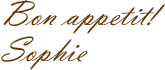 P.S. AND THE WINNER IS...Hundreds of you entered but only 1 could win a Deirdre bag from Gnipoos (valued at $140). Congrats to Lisa Morita (IL)! Thank you to everyone who participated in this week's drawing. Check back each week for more chances to win fabulous products compliments of Scoop du Jour!



To change your email preferences or unsubscribe, click here.
all content copyright scoop du jour 2005