Here Comes the Sun
March 1, 2005
We've never been above a little self-diagnosis.
Okay, perhaps we're known for it (read: mild hypochondria).
Our affliction du jour? Well Seasonal Affective Disorder, of course. What else would it be as we gear up to shovel ourselves out of yet another foot of snow?
While sunshine has become little more than urban myth over the past few months, we think we may have found the perfect substitute until the real thing comes a callin' in May.
Blues Buster Full Spectrum Light Bulbs use a special type of glass that's actually designed to filter out yellow and brown hues and thus mimics the look and feel of natural sunlight.
Unlike ordinary bulbs which tend to suck the life out of us, Blues Buster promises to put it back in. Providing over 5,000 hours of light per bulb (that's six times longer than whatever you're using now), Blues Buster also reduces eyestrain and glare.
So how many people does it really take to screw in a light bulb anyway?
Just one, with the proper motivation.
Snowbirds need not apply.
Blues Buster Light Bulbs are available at most natural food stores. For more information, please visit bluesbuster.com.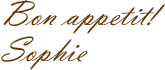 P.S. Bag it! Enter to win a Deirdre bag (valued at $140) from Gnipoos, one of our favorite handbag lines out of New York. You know the drill...Simply send us an email with your name and mailing address and we'll announce the lucky winner in this Thursday's Scoop!



To change your email preferences or unsubscribe, click here.
all content copyright scoop du jour 2005